JSCS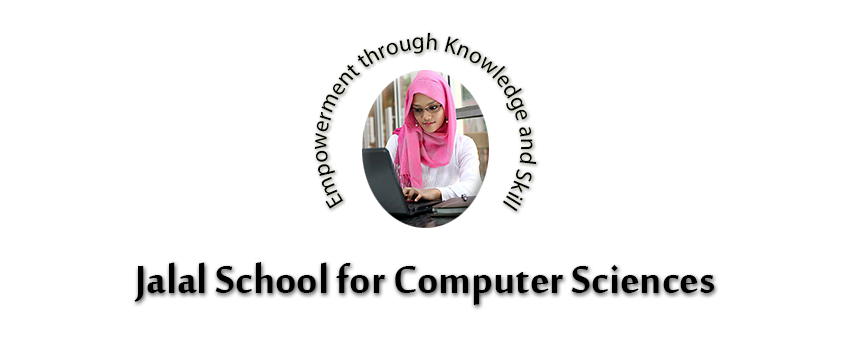 Education alone is not sufficient for the empowerment of women. A skill with earning potential is needed to improve the status of women in our society. Computer sciences play a pivotal role in the improvement of the world economy. The Jalal School for Computer Sciences provides an optimal environment and excellent facilities for mastering the fundamental skills of Information Technology - leading to a successful career.
Curriculum
Students follow a curriculum approved by the Punjab Board of Intermediate and Secondary Education for matriculation. The school's primary focus is on teaching English, physics, chemistry, biology and computer sciences.
Teachers' Qualifications
Only trained and well-paid teachers can teach properly. The minimum qualifications of teachers employed by this school are: BSc, BEd; BA, BEd or BInfTech.
Facilities
The school contains well-equipped science and computer laboratories. The computer laboratory is fully powered by a solar system exclusively reserved for it. An additional solar system has been installed to protect students from disruptions caused by load-shedding. Overcrowding and an unpleasant environment are major deterrents for good learning; hence the maximum number of students in any class is no more than 20.
Safety and Security
The school building is protected from intruders by its design and by employing a watchman. Because it is a girls' school, only the girls' mothers or female guardians are permitted to visit the building.
Expenditures, Fees and Scholarships
The monthly expenditure for each student in the school is approximately 3000 rupees covering rent, bills, salaries of staff and the maintenance of equipment and building. This school is not established for making a profit. All students are eligible for scholarships. The criteria for an award of scholarships are parents' income, and the ability, discipline and performance of individual students. About 50% of school's monthly budget is donated by Dr. & Mrs. Jalal. 25% of the budget is organised by fundraising. A small fee from each student is charged to cover the remaining costs.